If you're looking to visit Baja California Sur, Loreto is a hidden gem on the east coast of the Baja Peninsula, roughly two hundred miles north of Cabo. Enjoy its stunning landscapes, hiking trails, amazing beaches, historic buildings, whale watching, and lively town center. The coastal town is surrounded by islands to enjoy.
Loreto is a picturesque coastal town known for its stunning beauty, including pristine beaches and crystal-clear waters. Travelers are drawn by its rich history, offering a glimpse into the region's colonial past with well-preserved architecture and missions. It's home to a wide range of marine life, such as sea lions, dolphins, and gray whales. Whether you're interested in outdoor activities like snorkeling, hiking, diving, or simply relaxing on secluded beaches, Loreto offers a tranquil escape for those seeking a peaceful and culturally enriching vacation.
Witness the Beautiful Scenery, Rish History, and Picturesque Surroundings of Loreto
The Malecon Boardwalk
Enjoy the relaxing coastal ambiance at the Loreto Malecon Boardwalk, a waterfront walking path. You should explore this scenic spot for its breathtaking views of the Sea of Cortez. The surrounding mountains make it an ideal location for strolls and sunset admiration. The boardwalk creates a vibrant atmosphere where you can immerse yourself in local culture and cuisine. Additionally, the Malecon is dotted with cafes, restaurants, and shops.
Mission Loreto & Museum – Misión de Nuestra Señora de Loreto Conchó
Find the historic 18th-century Spanish mission. You should visit this iconic site to explore the region's colonial history and architectural heritage. If you're seeking a deeper understanding of Baja California Sur's past, Mission Loreto is one place to look. The mission has an attractive setting with a Sierra de la Giganta mountains backdrop. You'll feel the cultural significance upon arrival.
Next door is the Mission Loreto Museum, a cultural highlight that offers you a deep insight into the region's history and heritage. Explore this museum to learn about the cultural significance of Mission Loreto and its role in shaping the local identity. Inside, you can marvel at a diverse collection of artifacts, religious relics, and historical exhibits. It'll provide a fascinating journey through the mission's past and the cultural tapestry of Baja California Sur.
Mission Javier – Misión San Francisco Javier de Viggé-Biaundó
A well-preserved 18th-century Jesuit mission nestled amidst the breathtaking Sierra de la Giganta mountains in Baja California Sur. To reach this remote mission, you must embark on a scenic drive through the mountains. The journey offers awe-inspiring vistas and a sense of adventure. Once there, you can explore the historic mission, admire its architecture, and immerse yourself in its surrounding beauty.
The National Marine Park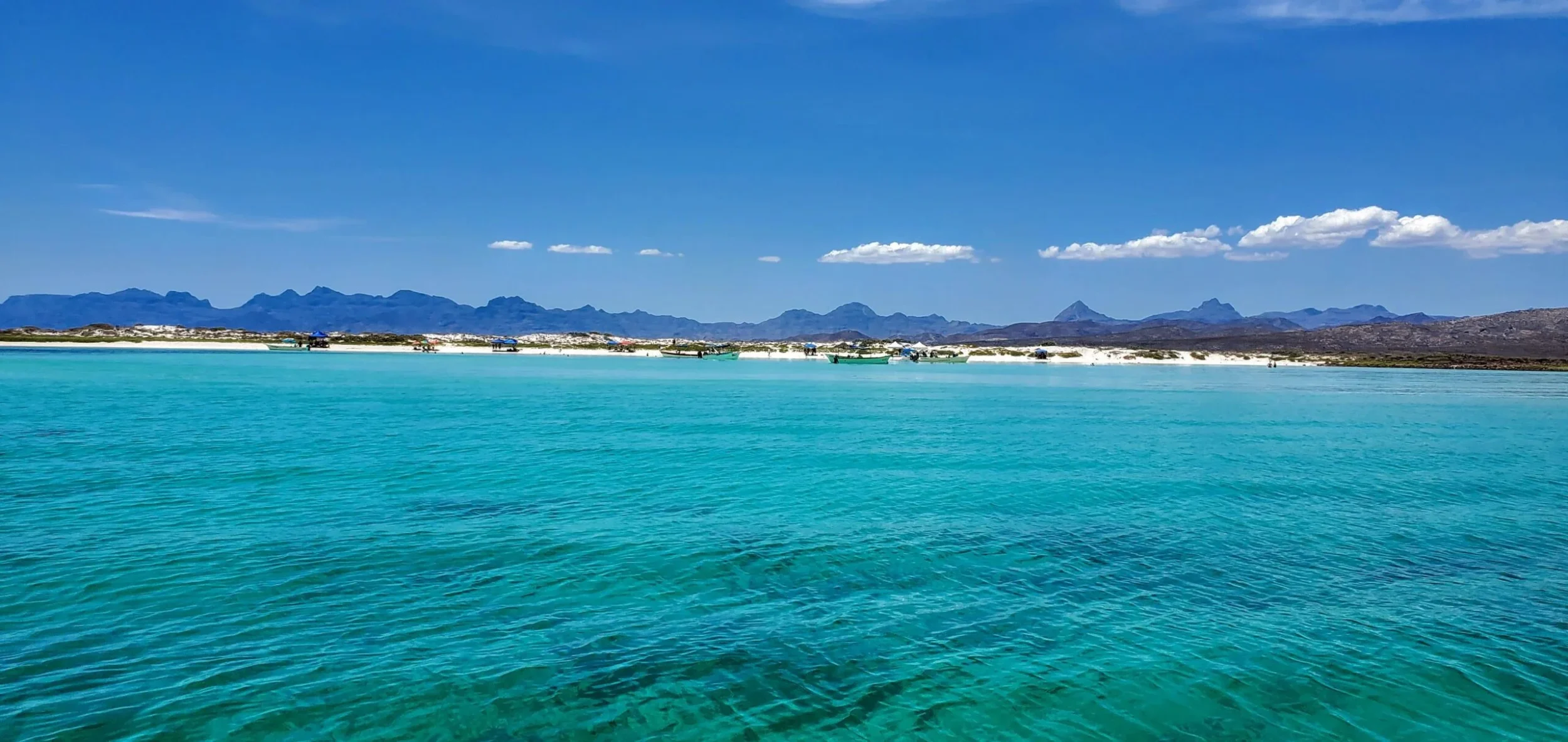 This National Marine Park is a pristine marine sanctuary renowned for its remarkable biodiversity and ecological significance. You should visit this protected area to immerse yourself in the natural beauty of the Sea of Cortez. There are opportunities for snorkeling, diving, and wildlife observation. Offering you a chance to witness an array of marine life, including dolphins, whales, sea lions, and vibrant coral reefs.
Hike Through Magnificent Mountains and Stunning Desert Landscapes In The Gulf of California
Dan Dailey Trail
Located within Loreto Bay National Park which offers you a variety of hiking trails that wind through desert landscapes and lead to stunning views of the Sea of Cortez. Some trails provide access to remote beaches for a secluded experience. The Dan Dailey trail is known for its tranquility and opportunities for birdwatching. You can spot a variety of bird species in the lush vegetation along the trail.
Sierra de la Giganta Trails
Hiking in the Sierra de la Giganta mountains allows you to explore rugged terrain and discover ancient cave paintings created by indigenous inhabitants. It'll provide you with a glimpse into the area's rich history and culture.
Nopolo Mountain Trail
This trail offers a moderate hike up Nopolo Mountain, providing panoramic views of Loreto Bay, the surrounding islands, and the Sierra de la Giganta. It's an excellent spot for sunrise or sunset hikes.
San Javier Mission Trail
Hiking to the San Javier Mission takes you through picturesque landscapes, including orchards and agricultural fields, before reaching the historic mission itself. It's a cultural and historical hike that showcases the region's colonial past.
Playa El Juncalito Trail
The Playa El Juncalito trail takes you along the coastline and offers access to pristine beaches, coves, and tide pools. It's a great option for beachcombing and exploring the diverse marine life along the shore.
Coronado Island Trail
While not technically a hiking trail on the mainland, taking a luxury yacht charter to Isla Coronado provides an opportunity to explore the island's unique vegetation and wildlife. The three mile hike to the island's peak rewards you with breathtaking vistas and a chance to see sea lions and other marine life.
Whale Watching in Magdalena Bay – A Breathtaking Loreto Adventure
When it comes to unforgettable activities in Loreto, Baja California Sur, few experiences rival the sheer awe and wonder of whale watching in Magdalena Bay. Whether you have the Rule No.1 Cabo yacht charter bring you to the location or you take a short drive from Loreto, it'll be a magical encounter with these gentle giants of the ocean.
The Whales of Magdalena Bay
Bahía Magdalena, is renowned as one of the world's premier destinations for whale watching. Here, you'll find majestic gray whales and their offspring. Every winter, these enormous marine mammals migrate from the frigid waters of the Arctic. They come for the warm and calm waters of Baja California Sur to give birth and raise their young.
When to Go Whale Watching
The whale watching season in Magdalena Bay typically runs from late December to early April, making it the perfect winter escape. During this time, the bay becomes a nursery for gray whale calves. This provides you with a unique opportunity to witness these playful baby whales alongside their protective mothers.
Getting to Magdalena Bay
Assuming your luxury yacht charter hasn't taken you straight to Magdalena Bay, you'll begin your whale watching adventure with a scenic drive from Loreto. During your commute you'll pass through picturesque desert landscapes and small coastal towns. Keep an eye out for the diverse plants and animals that call this region home.
Choosing a Tour
When you arrive in Magdalena Bay, you'll find a range of professional operators for your whale watching tour. These companies will follow sustainable and respectful practices to ensure the safety and well-being of the whales. These experienced guides will take you on small boats designed for close encounters while minimizing disturbances to their natural behavior.
Up-Close Encounters
One of the highlights of whale watching in Magdalena Bay is the opportunity for up-close interactions with these incredible creatures. Gray whales are known for their curious and friendly nature. They often approach boats to get a closer look at their human visitors. Don't be surprised if you're treated to a "spy hop" – a behavior where the whale pops its head out of the water to check out what's happening on the surface.
Other Marine Life and Birdwatching
While gray whales are the main attraction, Magdalena Bay is also home to a diverse marine life, including dolphins, sea turtles, and various bird species. Keep your camera ready to capture these magical moments and the stunning coastal scenery.
Experience the Gray Whales of Magdalena Bay
Whale watching in Magdalena Bay is an awe-inspiring adventure that leaves a lasting impression. It's a heartwarming experience to witness these massive creatures in their natural habitat and connect with the pristine beauty of Baja California Sur. So, when you're planning your trip to Loreto, be sure to include a day in Magdalena Bay for an unforgettable encounter with these enchanting whales.
Charter a Luxury Yacht To Discover Secluded Beaches & Island Adventures
Loreto, Baja California Sur, is surrounded by many small islands filled with pristine beaches, crystal-clear waters, and vast marine life. In the Gulf of California, you'll find the many islands and secluded beaches that make Loreto a true paradise for beach lovers and adventurers alike. Our experienced crew, aboard Rule No.1 luxury yacht charter, will anchor down and tender you to these secret locations.
Exploring the Secluded Beaches of Loreto
Loreto is blessed with a coastline decorated with remote beaches. These pristine stretches of sand offer the perfect escape from the hustle and bustle of everyday life. Here are some of the top secluded beaches you can explore…
Playa El Juncalito
This peaceful beach is known for its calming ambiance and is an excellent spot for swimming, snorkeling, or relaxing in the sun. It's framed by stunning desert landscapes and offers a glimpse into the natural beauty of Baja California Sur.
Playa Ligüí
Located to the south of Loreto, Playa Ligüí is a secluded cove surrounded by towering cliffs. Its remote location and untouched beauty make it a fantastic place to unwind, collect seashells, and marvel at the clear turquoise waters.
Ensenada Blanca
Also south of Loreto, Ensenada Blanca is a crescent-shaped beach that's perfect for water sports like kayaking and paddleboarding. The peaceful atmosphere and gentle waves make it ideal for your family and those seeking serenity.
Playa Nopoló
Situated near the Loreto Bay community, this beach offers a mix of natural beauty and modern amenities. You can enjoy water sports, beachside dining, and stunning views of the Sea of Cortez.
Go Island Hopping With Rule No.1 Luxury Yacht Charter
Loreto is not only blessed with secluded beaches but is also surrounded by several stunning islands dotting the Sea of Cortez. These are the islands you don't want to miss…
Coronados Island
This island is known for its dramatic landscapes, including towering rock formations and white sandy beaches. Isla Coronados is a haven for snorkelers, hikers, and wildlife enthusiasts. Keep an eye out for sea lions, dolphins, and a rich variety of marine life.
Carmen Island
The largest island in the Loreto Bay National Park, Isla Carmen beckons with its rugged beauty and hiking trails. The island is a birdwatcher's paradise, with opportunities to spot blue-footed boobies and other seabirds.
Danzante Island
Danzante Bay is famous for its underwater wonders. Snorkeling and scuba diving here reveal vibrant coral reefs full of marine life, including colorful fish and playful sea lions.
Planning Your Beach and Island Adventure in Loreto
To make the most of your adventure in Loreto, consider a luxury yacht charter for your island hopping excursions. Our experienced crew will tender you to these hidden gems, so you can enjoy these locations for what they have to offer. We'll ensure you have a safe and unforgettable experience.
Whether you're looking for relaxation on secluded shores or thrilling island explorations, Loreto's secluded beaches and nearby islands have something for you. So, pack your sunscreen, don your sunglasses, and get ready to soak in the surrounding natural beauty of this Baja California Sur paradise.
Explore the City Center, Savor Local Cuisine, and Enjoy Loreto's Lively Nightlife
There's so much more to this engaging coastal town than its marine wonders. Below you'll find out how you can make the most of your Loreto adventure. Explore the city center, indulge in delicious local cuisine, and immerse yourself in the vibrant nightlife.
Loreto's city center is a delightful blend of colonial history and modern charm. Here's how you can explore this captivating town in the Gulf of California. Picturesque waterfront walkways that invite strolls along the Sea of Cortez. Enjoy the sea breeze, take in the stunning sunset views, and watch local fishermen at work.
Shop for Local Artisan Crafts
Loreto is known for its vibrant artisanal scene. Explore local shops and markets to discover unique craftsmanship, including pottery, jewelry, and textiles, to take home as souvenirs.
Savor Local Cuisine
Loreto's culinary scene is a delightful fusion of Mexican flavors and fresh seafood. You don't want to miss these culinary experiences…
Enjoy Seafood Tacos
Head to a local taco stand or restaurant and indulge in the freshest seafood tacos you've ever tasted. From shrimp to fish and octopus, Loreto's tacos are a seafood lover's dream.
Try Unique Mango-Centric Dishes
Loreto is famous for its mangoes, and you'll find this tropical fruit incorporated into various dishes. Try mango ceviche or mango margaritas for a sweet and tangy treat.
Embrace Traditional Mexican Fare
Sample traditional Mexican dishes like enchiladas, mole, and tamales at local eateries. Pair your meal with a refreshing agua fresca or margarita for the ultimate culinary experience.
Lively Nightlife
As the sun sets, Loreto's nightlife comes alive with energy and excitement. Enjoy the many bars and restaurants in Loreto which feature live music, ranging from mariachi bands to contemporary acts. Check out the local event listings for live music nights. Sip on homemade drinks and explore Loreto's burgeoning craft cocktail scene with creative concoctions that infuse local flavors. Don't forget to try the famous "Loreto Mule." If you're seeking a lively atmosphere, several nightclubs in the city offer dance floors and DJs spinning a mix of Latin and international beats. Loreto is the perfect place to dance the night away.
Planning Your Adventure in Loreto, Baja California Sur
To immerse yourself in Loreto's city center, local cuisine, and vibrant nightlife. Plan your visit during the cooler months of November to April when the weather is ideal for exploring and enjoying outdoor activities. This will also give you the opportunity to book your trip to Magdalena Bay for your whale-watching encounter. Be sure to check local event listings for special festivals or cultural events that might coincide with your trip.
Whale watching may be the crown jewel of Loreto, but the city's heart and soul lie in its rich culture, culinary delights, and lively evenings. So, pack your sense of adventure and appetite for local cuisine as you set out to experience the many wonders on the east coast of the Baja Peninsula.
Book your Rule No.1 luxury yacht charter and allow our experienced crew to help you explore this paradise in the Gulf of California. Save time and wake up at your desired destination, with only a tender away from the activity of your choice. Your Cabo yacht charter is the best way to explore Loreto, Baja California Sur. Let us supply you with everything you need to embark on an amazing adventure in this beautiful paradise destination.
Your Loreto Adventure FAQs – Answers to Your Travel Questions
When is the best time of the year to visit Baja California?
Depending on the activities you'd like to enjoy, plan your trip with these months in mind. The best time to visit Baja for sea kayaking is the end of October to early December or March to April. The prime whale-watching season is from January to April when gray whales migrate to Baja's lagoons to mate and give birth. The cooler months of November to April are the peak season for larger marine life, including whale sharks and mobula rays. If you're looking for a surfing destination, summer is the best time to ride some waves!
What are the best places to stay in Loreto?
A: If you would like to stay the night on land and in a hotel, here's a list of the 10 best hotels to stay in during your time in Loreto. Airbnb also has some of the most diverse and unique options with welcoming hosts and accommodating places to stay.
How long does it take to explore Loreto, Baja California?
Loreto is a small town in Baja California Sur's heart. You can fully explore the town in a day. You'll need two to four days to immerse in the Baja experience and explore the islands around you.
How can I explore the secluded beaches and islands surrounding Loreto?
Consider chartering a yacht to optimize your experience. Rule No.1 luxury yacht charter, will give you access to the many hidden gems surrounding Loreto. Our experienced crew will tender you to secluded beaches and islands for a safe and unforgettable experience.